dj sniff - Turntablist, Curator, Educator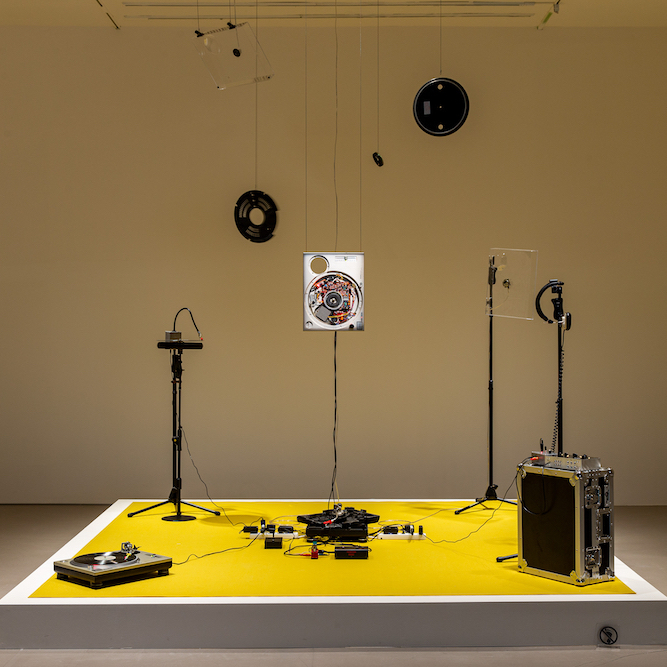 Takuro Mizuta Lippit a.k.a. dj sniff is a musician and curator in the field of experimental electronic arts and improvised music. His work builds upon a distinct practice that combines DJing, instrument design, and free improvisation. Over the years, he has collaborated with Evan Parker, Otomo Yoshihide, Koichi Makigami, Jaap Blonk, ErikM, Paul Hubweber, Tarek Atoui, Ken Ueno, and Senyawa. Numerous festivals have featured his work including: CTM Berlin, Warsaw Autumn, Flow Festival Helsinki, March Meeting Sharjah, Jazz em Agosto Lisbon, REWIRE Den Haag, and Taipei Arts Festival. Musical compositions and recordings by dj sniff have been released on various media formats from labels in Lebanon, U.K., France, Germany, Slovakia, Hong Kong, Malaysia, Taiwan, and Japan.
His recent works Parallel Traces of the Jewel Voice (2022) and The Inverted Listening of Explosive Enemy Aircraft Sounds (2023) examine the critical roles that phonograph records played during WWⅡ Japan and its colonized territories. Real / Fake Japanese Music from 1914~1980 (2022) and Japanese Pop Natures 1934~1985 (2023) are DJ mixes commissioned by the Global Pop Culture Magazine which are made in collaboration with musicologists from Japan.
Takuro holds a B.A. from Keio University Department of Aesthetics and Science of Arts, M.P.S. from NYU Interactive Telecommunications Program, and Ph.D. from De Montfort University Faculty of Computing, Engineering and Media. From 2007-2012, he was Artistic Director of STEIM – Studio for Electro-Instrumental Music, where he led and curated the institution's research, artist in residency program, and concert series. Between 2012-2017, he was Visiting Assistant Professor at City University of Hong Kong School of Creative Media and served as Associate Professor at Kyoto Seika University Department of Global Studies from 2020 to 2022. Currently based in Los Angeles, Takuro is the Co-Director of Asian Meeting Festival (AMF) - an international music festival that brings together experimental musicians from Asia since 2005, and is a member of the Shared Campus Global Pop Cultures Group and Telematics Summer School led by Zurich University of the Arts. He is also a part-time lecturer at Kyoto Seika and Tokyo University of the Arts Graduate School of Global Arts.
In 2023, Takuro has performed and presented commissioned work at LACMA (L.A.), C-LAB (Taipei), Østre (Bergen), Listening Biennial (Tokyo), and Taipei Biennial.